Miss Melissa
Melissa Sim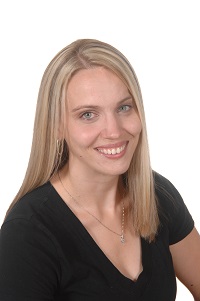 pson ASSISTANT DIRECTOR
A.B.A.T.D. (Stage) & C.Y.W.
Miss Melissa grew up dancing recreationally and competitively and has been teaching/choreographing for the past 16 years. Her formal dance training includes ballet, lyrical, jazz, acro-gymnastics, tap and hip hop. Since receiving her stage associate with the British Association of Teachers of Dancing in 2001 Melissa continues to further her knowledge by attending workshops, dance teacher conferences and seminars. A hi-light in her teaching career was when several of her students along with one of her pieces of choreography were chosen to represent Canada at the International Dance Organization's World Show Dance Competition in Riesa, Germany.
Along with her passion for dance, Melissa has always had a love for theatre. She took classes at the Huron County Playhouse for several years and eventually joined the London Theatre Schools performance Team/Funbuskers (Yes the rumour is true…she even made balloon animals!).
In 2006 Melissa graduated with a Child and Youth Work Diploma from Fanshawe College and worked for the Thames Valley School Board for a few years before taking some time off to be at home with her children Luke and Allison.
Miss Melissa truly appreciates all the parents and families and their dedication to the studio and their child's dance education!