Miss Katarina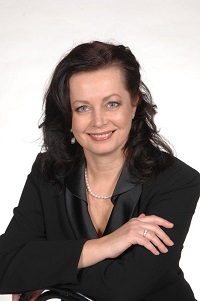 Katarina Sabo
In Europe, Katarina began competitive ball room dancing at the age of 17. At 23, she began to teach and brought her talents and knowledge overseas when she moved to Canada in 1990. Hired at Fred Astaire's in London, Katarina instructed ballroom, country western and line dancing, as well as completing her "Bronze" level" for the North American style of ballroom dancing.
This proud mom of two works full-time as the store manager for Kiehl's, a recent addition to the retailers at Masonville Mall. Kiehl's (a brand acquired by L'Oreal in 2000) has been producing efficient, highly concentrated skin care from natural ingredients since 1851, and is generating excitement among its clientele that it is now available in London.
Katarina is thrilled to be returning for her sixteenth season and encourages all couples, any age, any level, to come on out and give the Ballroom Blitz a try!